Cooking
1 . Stage
Finely chop the onion and garlic.
2 . Stage
In a tall container, mix onion, garlic, lemon juice, wine and all spices.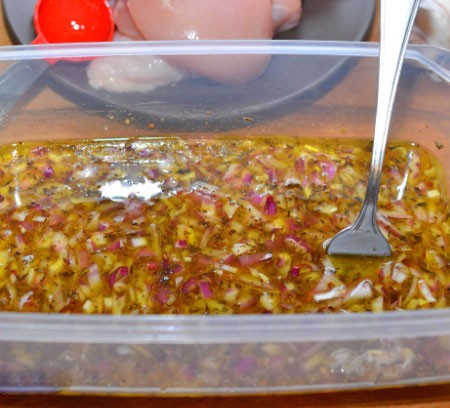 3 . Stage
Place the meat in the cooked marinade and leave for 2 hours in the refrigerator.
4 . Stage
Pre-dip the meat with a paper towel to remove excess fluid. Fry the chicken in a well-heated skillet with vegetable oil. Fry on both sides for several minutes, it is very important not to dry the meat.
5 . Stage
Cut into pieces and serve.
6 . Stage
Bon Appetit!!!
7 . Stage
Chicken fillet in a wine marinade turns out to be tender, juicy, tasty and fragrant. Cooking is quite simple and fast, this dish is perfect for any side dish, vegetables, salads and just with sauce. Spices can be selected according to your taste and preference, it is better to take semi-dry wine. The most important frying pan needs to be warmed up well so that the meat fries faster and does not become dry inside.