Cooking
1 . Stage
Chicken fillet cut into small cubes.
2 . Stage
Peel and finely chop eggs.
3 . Stage
Finely chop the mushrooms and onions and fry until golden brown in vegetable oil.
4 . Stage
Combine all the ingredients, salt and pepper to taste, add mayonnaise and mix well.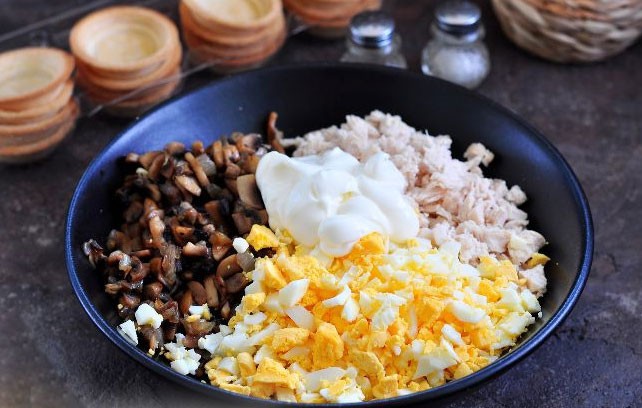 5 . Stage
Fill the tartlets with the finished salad, decorate and serve.
6 . Stage
Bon Appetit!!!
7 . Stage
Tartlets with chicken and mushrooms are a tasty, hearty, portioned snack. Cooking is very simple and fast, you can add a little hard cheese if you wish. Such tartlets are perfect for any holiday table. Tartlets should be filled with salad immediately before serving so that they do not get wet.