Cooking
1 . Stage
In 4 slices of bread, cut out the center of the circle with a small glass.
2 . Stage
Put the cut bread on the whole, you get 4 high croutons.
3 . Stage
In a bowl, beat 2 eggs with milk, add a little salt and pepper. Dip the croutons on all sides into the egg mixture and put on a pan covered with parchment and greased with vegetable oil.
4 . Stage
Drive an egg into each toast. Salt and pepper a little.
5 . Stage
Sprinkle with grated cheese so that it does not fall on the yolk.
6 . Stage
Bake croutons in the oven at 180 degrees 10 minutes to make the cheese brown. If you like liquid yolk then you need to slightly change the cooking sequence. Sprinkle croutons with cheese and bake for 5 minutes, then add eggs and cook until the desired yolk is about 3-5 minutes. Serve warm.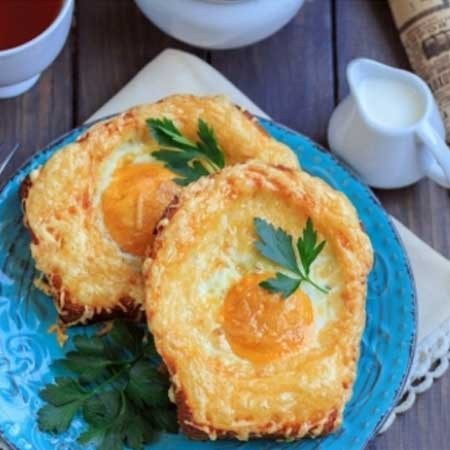 7 . Stage
Bon Appetit!!!
8 . Stage
Croutons with cheese and egg in the oven turn out to be very tasty, satisfying and at the same time look spectacular. To prepare such croutons is not too difficult and quite fast, in fact these are classic croutons only with the addition of eggs and cheese. Cheese makes the dish very hearty, so croutons are perfect for breakfast for the whole family, believe me, this breakfast is enough for a long time. Before serving, garnish croutons with herbs, serve with fresh vegetables.