Cooking
1 . Stage
Chicken, cut into pieces, put in a pan, salt a little, add 2 tbsp. l vegetable oil and simmer over low heat under a lid for 20 minutes.
2 . Stage
Cut the onions into half rings and fry in vegetable oil until golden brown without often interfering so that it remains intact. Put the onion to the meat.
3 . Stage
Cut the tomatoes into 4-6 parts. Fry the tomato paste in a pan for a minute, then add the tomatoes and simmer for several minutes. Transfer the tomatoes to the pan.
4 . Stage
Sweet and hot pepper cut into strips and add to chicken. Pour a little water so that the chicken and vegetables are half covered.
5 . Stage
Finely chop the greens and add half to the pan, simmer another 20-30 minutes until the meat becomes very soft.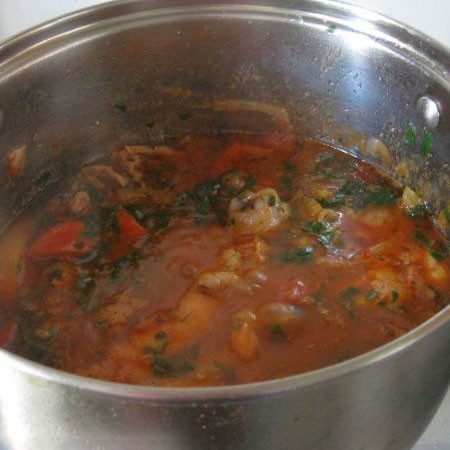 6 . Stage
At the end, add the garlic, passed through the press, the rest of the herbs, adjika, spices and salt to taste. Remove from heat and let stand under the lid for 10 minutes after which you can serve.
7 . Stage
Bon Appetit!!!
8 . Stage
Chakhokhbili in Georgian is a very tasty, juicy and satisfying chicken dish cooked with tomatoes, sweet and hot peppers, as well as various spices that make the dish fragrant and unique in taste. Such a chicken can be served with any side dish, and also such a dish will look great at any celebration or celebration. Cooking chakhokhbili is not too difficult, the main cooking time is stewing meat.