Cooking
1 . Stage
Cut the pork into pieces. It is best to use collars.
2 . Stage
Cut the onion into half rings and add to the meat.
3 . Stage
Add paprika and black pepper.
4 . Stage
Cut the cilantro together with chopsticks, break the bay leaf into small pieces with your hands.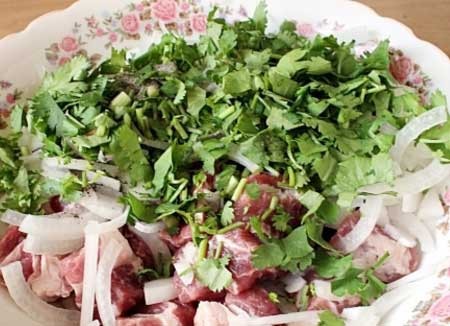 5 . Stage
Pour in the wine and mix well, slightly kneading with your hands that the onions and greens let the juice go. You don't need to marinate such a kebab for a long time, there will be enough time until the grill is lit, about 20 minutes. Before stringing on skewers, salt and mix.
6 . Stage
Cook the kebab until cooked, but do not dry it. Serve with pickled onions.
7 . Stage
Bon Appetit!!!
8 . Stage
Shish kebab in the Caucasus from pork is very tender thanks to the wine, onions and cilantro give a unique taste and aroma. Marinating such a kebab is very simple and most importantly quickly, all you need is a few minutes to prepare and a little more for the marina itself. A correctly selected marinade is only half of a delicious kebab, it is also very important to fry it properly at normal temperature without fire. So pickle and cook for the health and joy of your family!