Cooking
1 . Stage
Marinade is indicated for 1 liter. jar. Zucchini cut into circles of 1 cm thick.
2 . Stage
At the bottom of a sterile jar, lay the leaves of horseradish and cherry, as well as garlic.
3 . Stage
Peel sweet peppers from seeds and cut into strips, put half in a jar.
4 . Stage
Put in a jar of zucchini, on top of the rest of the pepper. Put a little more dill and a leaf of horseradish on top, you can also add hot pepper.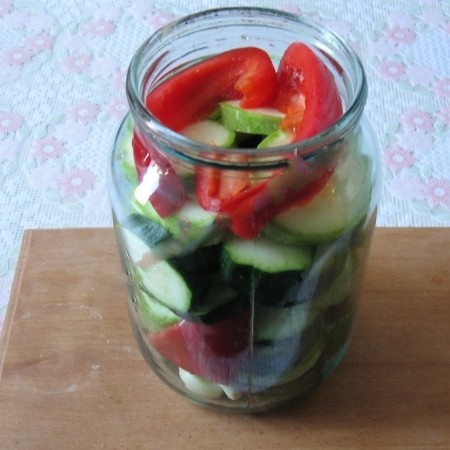 5 . Stage
Pour jars of boiling water and cover with lids. Leave on for 20 minutes, then drain the water and bring it to a boil again, fill the jars with zucchini and leave for another 20 minutes. Drain the water again and bring it to a boil, put salt, sugar and vinegar in each jar, fill with boiling water and roll up with sterile lids.
6 . Stage
Bon Appetit!!!