Cooking
1 . Stage
Eggs are divided into yolks and squirrels. For the test, mix whipped yolks with 1.5 tbsp. sugar, margarine, mayonnaise, soda, vanilla and flour, mix well. Divide into 3 balls and put in the refrigerator for half an hour.
2 . Stage
Beat the whites until a strong foam, gradually add 2 cups of sugar.
3 . Stage
We take 1 part of our dough, hands distribute it on a baking sheet, apply 1/3 of the protein mass, "pull" with a spoon and bake at 160 degrees for about an hour. So do the rest of the test. You should get 3 meringue cakes.
4 . Stage
For cream, beat butter with condensed milk.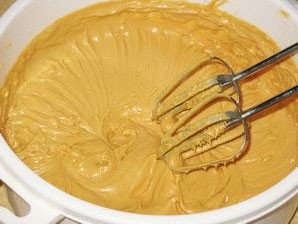 5 . Stage
Spread each cake with condensed milk, and sprinkle with roasted, chopped nuts on top.
6 . Stage
Add cakes together, do not smear the last cake with cream. Make icing and randomly pour Snickers cake on it, let it brew for several hours.
7 . Stage
Bon Appetit!!!