Cooking
1 . Stage
Grind crackers into crumbs, you can do this by passing them through a meat grinder or using a rolling pin.
2 . Stage
Combine butter, condensed milk, cocoa and half chocolate in a bowl. Stir everything and put on a fire or water bath until the butter and chocolate dissolve, while constantly stirring. Add cognac at the end.
3 . Stage
Pour the chocolate mixture into crumbs from crackers and mix well. From the resulting dough, manually form pies in the form of potatoes or a small sausage.
4 . Stage
Melt the remaining chocolate in a water bath and dip the top of the cake, let the chocolate congeal.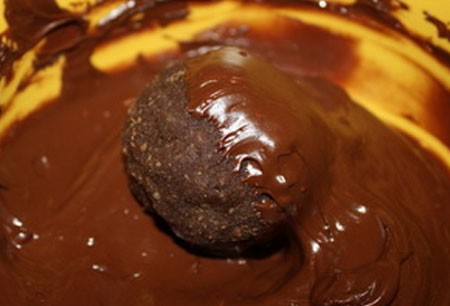 5 . Stage
The cake is ready.
6 . Stage
Bon Appetit!!!
7 . Stage
The Potato cake from crackers turns out to be very tasty and at the same time tender, it is quite simple to prepare it. At the end, we cover the cake with chocolate, you can also sprinkle with cocoa, nuts and colored sprinkles. In the cake itself, you can also add crumbs from nuts, it will turn out even tastier. Such a treat can be for adults and children. It will be very fun to cook with little helpers.