Cooking
1 . Stage
Rub the cottage cheese through the full, add finely chopped dill, sour cream, garlic, salt and pepper to taste to it.
2 . Stage
Disassemble the cabbage into leaves so as not to damage them. Grease each leaf with the cooked filling and fold the cabbage back leaf by leaf.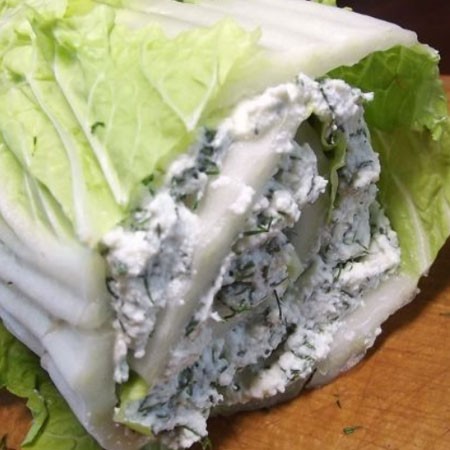 3 . Stage
Wrap cabbage tightly in cling film and put in the refrigerator for 30 minutes. Before serving, peel off the film and cut into slices.
4 . Stage
The curd roll from cabbage turns out to be juicy, original, quite satisfying and fresh, it is a wonderful bright and fresh snack. It's not too difficult to cook such a roll; you can don't put it in the refrigerator if you plan to serve it right away. Instead of dill, you can use other herbs, as well as add sweet pepper, the amount of garlic can be adjusted to your liking.