Cooking
1 . Stage
Cut all the ingredients into small cubes, only divide the eggs into proteins and yolk, grate. You can start laying out the salad. The first layer of rice, try to lay out in the shape of a bird.
2 . Stage
Brush rice with mayonnaise. Then put the meat and mayonnaise again.
3 . Stage
The next layer of onions and again a little mayonnaise.
4 . Stage
Then put the yolk, mayonnaise and egg white on top of it. Lubricate everything with mayonnaise and smooth.
5 . Stage
From the tomatoes lay the breast of the bird.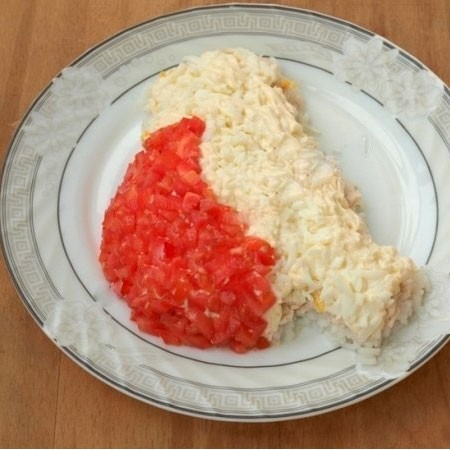 6 . Stage
Decorate Bullfinch Salad with olives and give an hour to soak.
7 . Stage
Bon Appetit!!!