Cooking
1 . Stage
Heat olive oil in a pan, chop the onions in half rings, fry the onions until golden. Then add finely chopped garlic and sliced mushrooms. Salt and pepper to taste, simmer for about 2 minutes. After pouring the wine and cook until it evaporates. Add chopped rosemary, cook another minute and remove from heat.
2 . Stage
Cool the mushrooms and transfer to a bowl, add chopped basil and half-sliced tomatoes. Pour vinegar and mix. If necessary, add salt and pepper. add some more olive oil.
3 . Stage
Cut the baguette into pieces and fry in a dry pan. Put the filling on slices of bread and serve.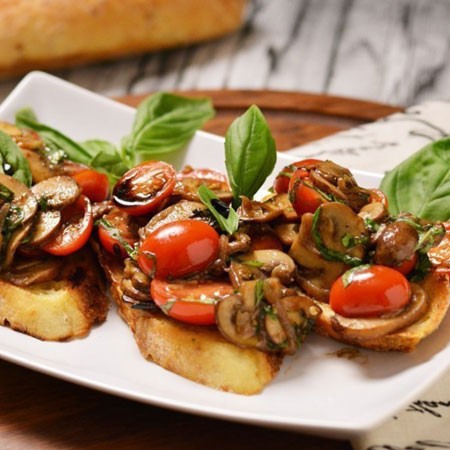 4 . Stage
Bon Appetit!!!
5 . Stage
Bruschetta with fried mushrooms and fresh tomatoes is hearty, rich and delicious. To prepare such an appetizer is quite simple and quick, it is great for a snack for the whole family, as well as an appetizer in front of the main course on the festive table. You can use any mushrooms for cooking, forest mushrooms are also perfect, cherry tomatoes can be replaced with ordinary ones; just choose a variety with more pulp so that there isn't much juice. Use your favorite spices and herbs to taste.