Recipe information
Servings per container:
4
Cooking
1. Stage
Wash the broccoli, sort it into inflorescences, put it on a pan covered with parchment. Sprinkle a little with olive oil, salt and pepper, bake in a preheated oven at 200 degrees for about 30 minutes.
2. Stage
Heat 1 tbsp directly in the pan. l olive oil and fry the onion diced for 5 minutes or until it is soft, then add the chopped garlic and thyme, cook for another minute.
3. Stage
Then add broccoli to the pan, pour the broth in one glass of 220-200 ml. Bring to a boil and cook under the lid for 15 minutes.
4. Stage
Then add canned beans and grated cheese. Salt and pepper to taste.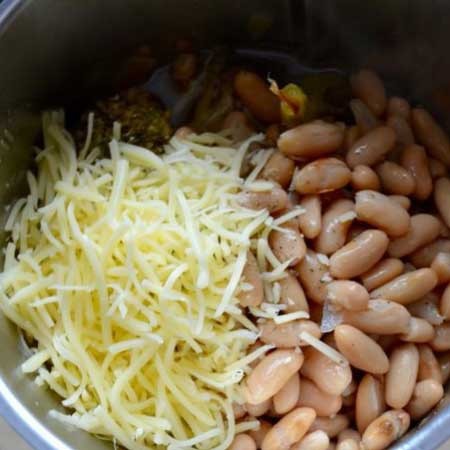 5. Stage
Kill the soup with a blender, put on a fire and warm a little. Serve with fried bacon.
6. Stage
Bon Appetit!!!
7. Stage
Cream soup made from broccoli, beans and cheese is very tender, quite satisfying and tasty. Cooking such a soup is quite simple, be sure to serve with fragrant fresh bread, and you can also add fried bacon. In addition to a pleasant taste, broccoli soup is also quite healthy, it can be safely given to children, soup puree is remarkably absorbed. Cream soup can also be served on the festive table, it will certainly become a dish of the evening.