Cooking
1 . Stage
Preheat the oven 200 degrees. Lubricate the cupcake molds with butter. If the molds are silicone then you do not need to lubricate it. In a large bowl, beat the eggs, gradually add sugar whipping. While continuing to beat, slowly pour in the oil, then add the vanilla.
2 . Stage
In a separate bowl, combine flour, salt and soda. Stir the dry ingredients into the egg mixture alternately with sour cream. Put the blueberries at the bottom of the tins and cover with dough.
3 . Stage
Bake in a preheated oven for 20 minutes.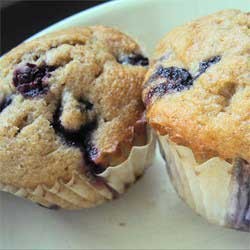 4 . Stage
Bon Appetit!!!