Cooking
1 . Stage
For a biscuit, beat the yolks with plain and vanilla sugar until white, gradually pour the flour and baking powder.
2 . Stage
Pour the dough into a greased form and bake at 180 degrees for about 40 minutes.
3 . Stage
Whip cream with curd.
4 . Stage
Dissolve the jelly according to the instructions and set to cool.
5 . Stage
Mash a few strawberries and mix with liquor, soak the cake.
6 . Stage
Place a mold on top of the cake and spread the whole cream.
7 . Stage
Spread the strawberries on top and pour in the jelly. Place in the refrigerator overnight until completely frozen.
8 . Stage
Cut the cake into pieces and serve.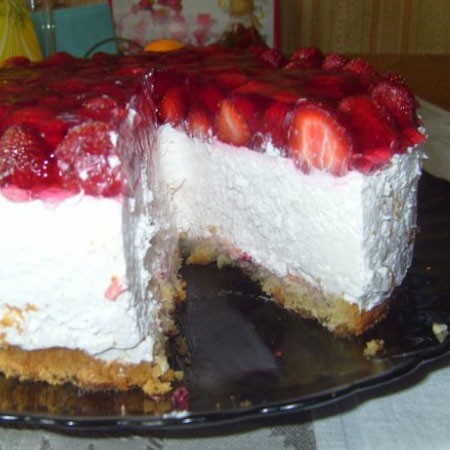 9 . Stage
Bon Appetit!!!
10 . Stage
A biscuit cloud with strawberries is a wonderful cake that is prepared quite simply, a delicate curd cream on a biscuit cake, under a layer of strawberries and covered with strawberry jelly. This cake is perfect for any holiday, you can safely give it to children, but I think adults will also be delighted.