Cooking
1 . Stage
Boil the eggs in a hard boil. Vegetables in jacket, or better baked. Peel the vegetables. Apple is washed, cut out the middle. All cut into very small cubes. I will use canned garlic arrows instead of garlic in the salad - homemade. Cut the gherkins and arrows into thin "pucks". Put everything in a salad bowl. Stir.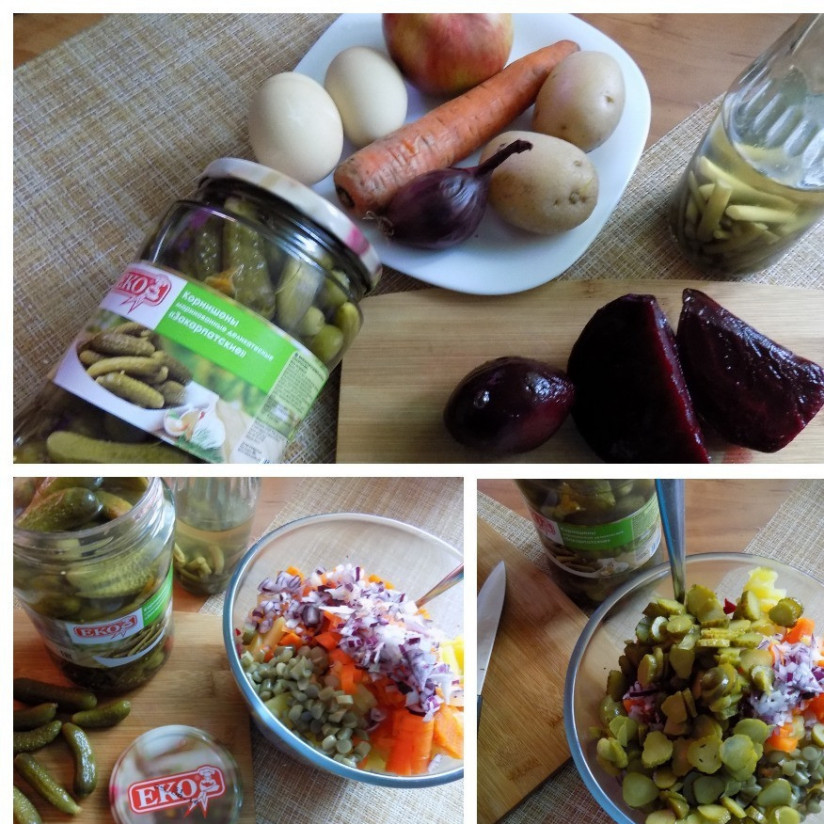 2 . Stage
Make the dressing. In a bowl combine mayonnaise, grainy mustard (Dijon), cayenne pepper (black, red or chili). Dress the salad. I did not salt the salad. You can salt it to taste. The salad is ready to be laid out individually for everyone, supplemented with chopped eggs, herring, grainy mustard to taste and sprinkled with herbs. The salad can be served in a common salad bowl, chopping eggs, herring in small cubes, herbs and combining everything. This is another option for serving.
3 . Stage
Today I'm going to set the table for two and lay out the salad in different ways. Option one: I just put a few spoonfuls of lettuce on the plate, cut the egg in half and put slices of herring fillets on it, grainy mustard and sprinkle the whole thing with herbs.
4 . Stage
The second option: on the second plate I will try to depict a semblance of a mouse. I put the salad in two metal triangles like this (see photo).
5 . Stage
I cut the egg into slices with a special device across. I will make ears and nose of the mouse. Arms, legs and tail - green onions. I put the egg slices on a plate, and on them - slices of herring, grainy mustard and a sprinkle of herbs.