Cooking
1 . Stage
Pepper and salt to taste, add chopped cilantro, sprinkle with vegetable oil a little and leave to marinate for 30 minutes.
2 . Stage
Finely chop the onion and fry in vegetable oil until golden brown.
3 . Stage
Then add frozen beans to the onion, cover and cook for several minutes, stirring occasionally.
4 . Stage
Fry the meat on all sides until golden brown. Then transfer to a baking dish. Add Adjika in a small amount of boiling water and pour meat, cover with foil and bake at 180 degrees for 10-15 minutes.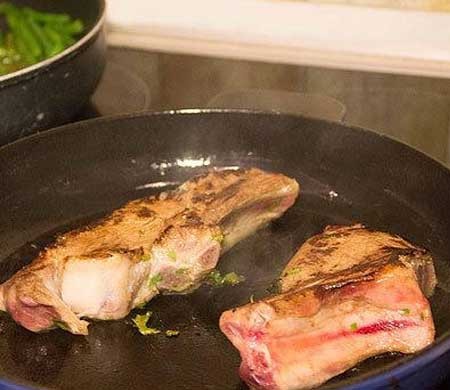 5 . Stage
Cut red onion into 4 parts and fry in a pan where the meat was fried on all sides.
6 . Stage
Serve the beef with beans and one part fried onions.
7 . Stage
Bon Appetit!!!
8 . Stage
Beef with Beans and Onions is not only hearty, but also tasty, aromatic and juicy. Cooking such meat with a side dish is very simple and fairly quick. This dish is great for the whole family for lunch or dinner, cilantro gives beef a unique aroma and taste, if you like spicy then use more adjika, you can also add any spices to taste. You can also add a little soy sauce to the red onion so that it acquires a caramel flavor and color.