Cooking
1 . Stage
Whisk the yolks with sugar, then pour in hot milk, mix and place in a water bath. Cook until thickening constantly stirring. Pour gelatin with hot water, dissolve it and add to the cream. Chill.
2 . Stage
Whip the cream with icing sugar until thick peaks, then add the cooled cream to the proteins. Pour the prepared mixture into cups and refrigerate until completely frozen.
3 . Stage
Cut the strawberries into cubes, add sugar to taste and put on a slow fire until sugar is completely dissolved.
4 . Stage
Cups with dessert, put in hot water for a few seconds so that it is well behind the cup. Turn Bavaria into a dish and pour strawberry jam. You can also pour dessert with melted chocolate or any topping.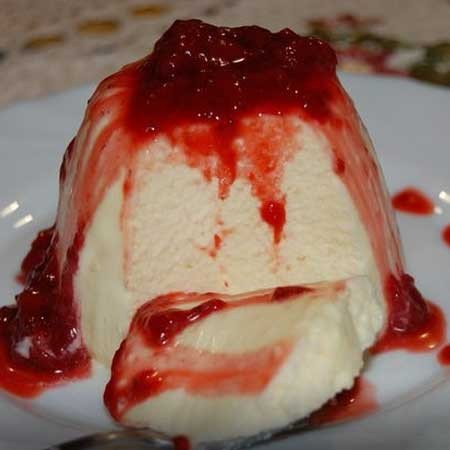 5 . Stage
Bon Appetit!!!
6 . Stage
Bavaria is a very delicate, slightly airy and delicious dessert based on milk and cream. This dessert is perfect for a festive table, and it can also be used as cream for cakes, just add your favorite berries to it and then spread the cakes. This dessert is sure to appeal to everyone who tastes it and will certainly conquer it. Cooking Bavaria is very simple and fast, any culinary specialist can handle it.