Cooking
1 . Stage
First, prepare the dough for the baskets. Mix the chilled butter with flour, icing sugar and vanilla sugar. Grind everything into the cat with your hands.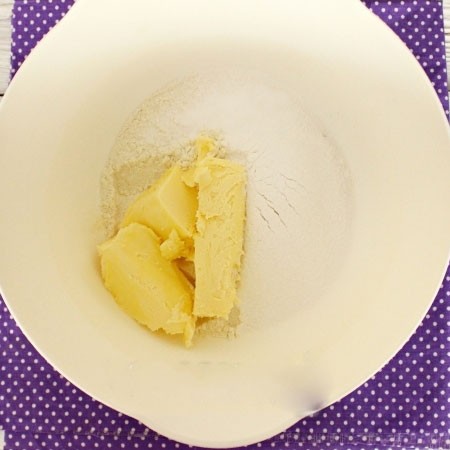 2 . Stage
Then add the yolks to the crumbs, knead well and roll into a lump. Wrap in cling film and put the refrigerator in the test for 20 minutes.
3 . Stage
For the filling, peel the apples from the peel and core, cut into small cubes. Put apples in a pan, add butter, sugar, lemon zest and juice. Put the pan on a slow fire until the butter is parted, then cover and simmer apples until soft, the time will depend on the variety.
4 . Stage
Take the dough out of the refrigerator, divide it into 12 even parts and roll out the size of silicone cupcake tins. Put the dough in them and squeeze it well, put in the refrigerator for another 20 minutes so that the baskets do not lose their shape during baking. Then bake the baskets in a preheated oven to 180 degrees for 5-15 minutes.
5 . Stage
Put apples in the prepared baskets a little tamping. Place one frozen berry on top.
6 . Stage
For meringue, cool the whites and beat them with powdered sugar and lemon juice. Beat until the mass is stable and dense, at the end pour the starch and whip again.
7 . Stage
Using a pastry bag, squeeze the meringue onto the baskets with a hat. put in the oven preheated to 140 degrees and bake for 40-60 minutes. The meringue should acquire a slightly ruddy color.
8 . Stage
Cool the finished baskets and remove from the mold, be careful as the meringue is very fragile.
9 . Stage
Bon Appetit!!!
10 . Stage
The baskets with apples and meringue turn out to be very tasty, the baskets themselves are crispy and crumbly, the filling is tender and juicy, and the meringue is crisp and fragile. To prepare such baskets you will need a little time and skills, but the result is worth it, such a dessert will delight everyone without exception. Such baskets will perfectly decorate any holiday table or feast.