Ingredients
Cooking
1 . Stage
Heat the pan over medium heat. Pour in water and add sugar, mix and let boil until the mixture is caramelized. Pour this mixture into the pots.
2 . Stage
Lay out the sliced banana.
3 . Stage
In a pan over medium heat, heat milk with honey. Add vanilla, after a while remove the pod. Do not boil. In a bowl, beat the eggs and gradually pour in the milk mixture. Beat well so that the eggs do not curl. Strain the mixture and pour into molds.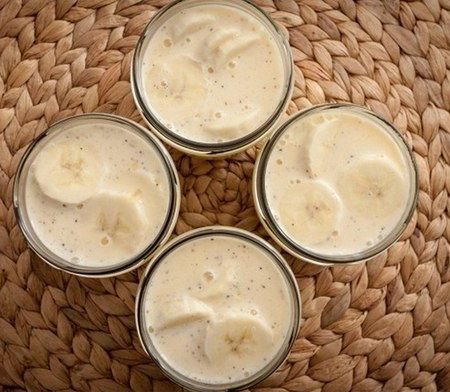 4 . Stage
Cover everything with foil, put in a pan or pan over medium heat, pour a little water on the bottom. Cook for about 20 minutes, but do not bring to a boil in any case.
5 . Stage
Remove the pan from the pan and cool slightly. Refrigerate for an hour. Remove the banana-vanilla pudding from the tins and serve.
6 . Stage
Bon Appetit!!!