Cooking
1 . Stage
The total weight of the meat was 1.2 kg. Remove the meat from the bone. Add the garlic passed through the press, add paprika, lemon zest, vegetable oil, salt and pepper to taste. Mix everything well so that the meat is completely covered with spices, leave to marinate for 40 minutes.
2 . Stage
Roll the turkey compactly and dress it with thread.
3 . Stage
Lubricate the pan with vegetable oil a little and heat to maximum temperature, fry the meat from all sides for several minutes so that a golden crust appears.
4 . Stage
Transfer meat to a baking sheet and bake at 200 degrees for 40-60 minutes, depending on the size of the meat. The readiness of the meat can be checked by piercing it, the juice from the turkey should be transparent. 5 minutes before cooking, grease the hips with glaze, just mix everything.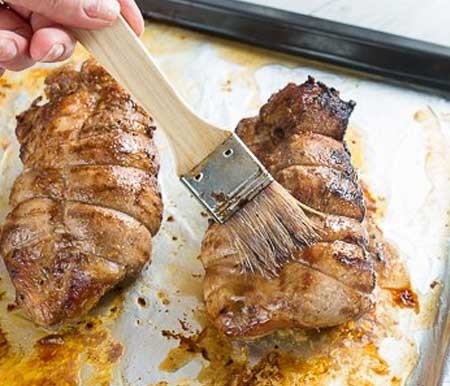 5 . Stage
Pull the finished hips out of the oven, cover with foil and leave for 10 minutes. Serve warm under any side dish.
6 . Stage
Bon Appetit!!!
7 . Stage
The baked turkey thigh in honey glaze turns out to be juicy, tender and tasty, such a dish is perfect for any side dish, and as simple as an appetizer for salads, vegetables or sandwiches. If you have meat with skin, you can't remove it, then the baked hips will turn out to be more juicy, and the crust is crispy and golden. Such meat is sure to decorate any holiday table, and it can also be cut in portions and served at a buffet table. This meat is great for the whole family since turkey is considered dietary meat.