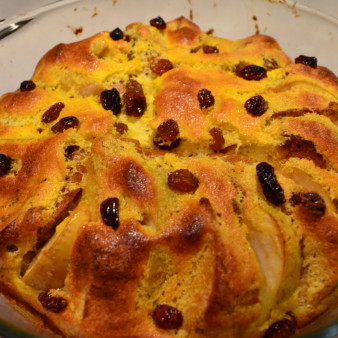 01.08.2022
8
Recipe information
Servings per container:
4
Cooking
1 . Stage
The recipe is simple but interesting: Cut the apples into thin cross-sectional slices, removing the middle.
2 . Stage
When there is a loaf or baguette in the house, I usually just dry it specifically for this charlotte. But now I browned it in the oven since the bread has to be stale as a matter of principle (honestly speaking, I overcooked it, so don't be guided by the color of my loaf).
3 . Stage
The whites are separated from the yolks, beat into a stiff foam.
4 . Stage
Beat the yolks with the sugar, milk and cinnamon. Carefully add the beaten whites to this mixture.
5 . Stage
Grease a round mold with a little oil. Spread a little more than half of the egg mixture, and insert slices of bread and apples in it one by one, you can put a few ¾ of the dumplings between them. Sprinkle this construction with the rest of the yolk.
6 . Stage
Cover with the rest of the egg mixture and leave alone for 10 minutes. This is important!
7 . Stage
Bake the quiche at 150-170° for 45 minutes. After 3 45 minutes, place slices of butter on top of the quiche and place in the oven for another 15 minutes.
8 . Stage
At the end we get the most delicate casserole and the understanding that the German Charlottes not only successfully disposed of the remains of the bread (by the way, this is also a respect for the bread, because, as you know, it should not be thrown away), but also saved time while cooking, and this is a purely German quality)))